Come detto, la line up del cubetto era assai ampia e comprende alcuni capolavori indimenticabile dell'epoca a "128 bit" delle console.
Sì, in effetti 128 Bit è una sorta di errore storico, ma non è questa la sede per discuterne, e comunque quella generazione di console è sempre stata così definita, a torto o meno.
Tra i capolavori.

The Legend Of Zelda: Twilight Princess (e il prequel The Wind Waker)

Super Mario Sunshine



Super Smash Bros. Melee

Metroid Prime I & II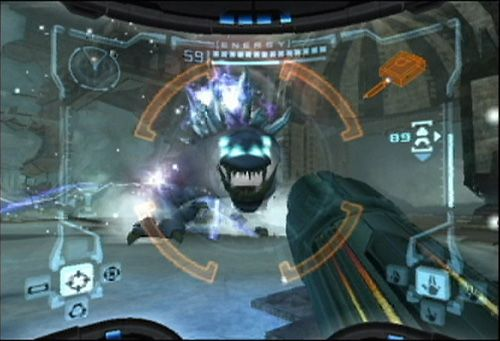 DA SEGNALARE IL RITORNO SU UNA CONSOLE NINTENDODI TRE IMPORTANTI SAGHE:
Metal Gear Solid The Twin Snakes, Final Fantasy Christal Chronicles, Resident Evil 0, Resident Evil, Resident Evil 4
TRA GLI ALTRI TITOLI DA AVERE…
Animal Crossing (che verrà consacrato con l'edizione su Nintendo DS col supporto dell'online), Donkey Kong Jungle Beat, Tales Of Symphonia, Baten Kaitos, Wiewtiful Joe, l'ottimo Eternal Darkness, Splinter Cell, la "saga sportiva" di Mario, Donkey Konga, Ikaruga, Starfox Adventures, Star Wars Rogue Leader …

ACCESSORI
Modem: necesrioper il gioco online, verrà come detto sopra utilizzato per i soli tre episodi di Phatasy Star Online

Adattatore Lan: da inserire nello stesso slot del modem, per collegare due gamecube e giocare fino in 8 con i giochi in grado di supportare una simile opzione (per esempio il buon Mario Kart Double Dash).
Game Boy Player: per giocare i titoli GBA comodamente nella tv di casa.
Cavo di collagamente NGC-GBA: per colegare le due console, in modo da sbloccare extra o giocare in modalità cooperative particolari nei giochi che supportano tale opzione (es Wind Waker, Splinter Cell).
Cavo RGB: per una migliore resa video.
Articoli correlati:
Nessun articolo correlato
Lascia un commento